Winduct
& Vem: Let's Duel!
Vem: Hold on! Hey Taylor! Catch! *throws card*
Miss Taylor: What is this?
Iverson: I think he wants you to keep this.
Miss Taylor: Hmpf, Vem, catch!
Vem jumped and caught the card at the right time.
Winduct
: I see...Looks like You cant Summon your precious Chimaera, just like you did before, your Deck is not aproppriate.
Vem added Lorelei in his deck and shuffled it quickly.
Vem: Quit stalling!
Announcer: Let the duel begin!
Winduct
: As host of the game, i will let you go first.
Vem looked carefully his cards in his hand...
Vem: I insist, you go first.
Winduct:
Very well. I place 1 card face-down...
Vem: Is that all?...
Winduct:
How rude, dont interrupt anyone when dueling, didnt they teach you that in the Academy? I activate Card Destruction, which means we both discard all of our cards in the Graveyard and draw from our decks equal to the cards we discarded.
Vem: Ugh...
Winduct:
Hmhmhmhm...I place two more face-down cards and end my turn.
Terraplant: Three cards face-down?
Vem: Hahaha! Looks like you did a major mistake. With that Card Destruction you activated i draw this little card! Looks like lady luck is on my side today! I draw and activate Heavy Storm!
Terraplant & Redgar & Iverson & Mysterious: Go Vem!
Announcer: It seems Winduct woke up from the wrong side of the bed today ladies and gentlemen!
Winduct:
On the contrary, i was expecting that but not that soon. *face-down cards destroyed* The card i had face-down was Kozaky's Self Destruct Button, and three of them actually!
Vem: You've got to be kidding me!
Winduct:
And you know what that means, 1000 damage for every one you destroyed, that will teach you not to rush and think before you act hahah..
Vem: Agggggh! (LP1000)
Redgar: 1000 Life Points remaining!
Vem: Didnt expect that... but now your wide open for a direct attack! I Summon Green Gadget from my hand in attack mode, sending 1 Red Gadget from my deck to my hand. Now Red Gadget attack him directly!
Winduct:
(LP2600)
Vem: Next i place 1 cards face-down and End my Turn.
Winduct:
Good start for both of us dont you think? I draw. I remove from play My Peten the Dark Clown from my graveyard whom i discarded to Special Summon 1 Peten from my Deck in defense mode! Next i place 3 cards face-down and end my turn.
Vem: Three more face-downs? Dont you have like real monsters or something? I draw a card and Summon Red Gadget in attack mode! Then i activate his special ability to add 1 Yellow Gadget from my Deck to my hand. Now i activate my face-down, Smashing Grownd to destroy your redicilous clown!
Winduct:
Watch your mouth little boy.
Vem: You better watch your strategy caue your about to get a hit from my Gadgets over here! Now Attack him directly!
Winduct:
I activate my Trap Card! Birthright! With this card i can Special Summon 1 Normal Monster from my Graveyard, and since i discarded my whole hand in the beginning of our duel, come fourth Illusionist Faceless Mage!
Vem: Haha! You actually carry this card in your Deck? Green Gadget, destroy him!
Winduct
: I activate my Trap Card, Magical Trick Mirror!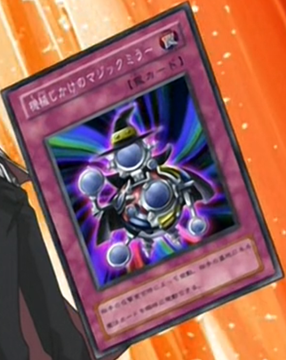 With this i select 1 Spell Card in your Graveyard, and as i can see, you discarded Srhink in the beginning of our duel, so now my Magical Trick Mirror is treated as your Shrink!
Vem: No! My Green Gadget's attack is halved!
Winduct:
Indeed it does!
Vem: Ugh! (LP500)
Announcer: Things dont look so good for Vem! 500 Life Pints remaining!
Winduct
: *chuckles*
Vem: I still have my Red Gadget to attack!
Winduct:
Do you? I activate my third face-down! Book of Moon, now your Gadget's attack is negated and he switched in face-down defense position. And it only has 600 defense points...how sad.
Vem: Your sad!, i place another face-down and end my turn!
Iverson: Things dont look too good for Vem...
Mysterious: Don't worry he will pull this off.
The crowd was now silent, watching carefully the duel between the two duelists, it was intense.
Winduct:
My turn already? Draw! First, my Faceless Mage will attack your face-down Gadget, i dont hope you'll mind.
Vem: Actually, i wont let you! I activate my face-down Trap Card! Mirror Force!
Winduct:
The famous Mirror Force...
Vem: Now your wizard is done for!
Winduct:
Hmpf.., very well, i place a face-down monster and end my turn.
Vem: Why wont he summon a monster face-up? Looks like my Bottomless isnt helping...I draw! I switch my Red Gadget in attack mode and Summon my Yellow Gadget in attack mode! Next i activate Solidarity from my hand giving my two monsters a boost of 800 attack points, and with the special ability of my Yellow Gadget i add 1 Green one to my hand. Now my two monsters attack! First my Yellow Gadget will attack with 2000 attack points!
Winduct:
You just destroyed my Masahiro the Dark Clown, and now his special ability activated.
Vem: Ive never seen that card...
Winduct:
Then you dont know what his spacial ability is. lovely, let me explain, when hes Flip Effect activated, i can activate the flip effect of 1 monster in my Graveyard, and i choose the effect of my Vindictive Magician to destroy your Green Gadget!
Vem: No way!...I place a face-down and end my turn.
Winduct:
Glad to hear that. I remove my Peten from my Graveyard to Special Summon another one!
Vem: Wrong, i activate Bottomless Trap Hole to destroy your clown!
Winduct:
T-T-T-T, looks like i have no other choice than to play this face-down and end my turn. Remember what i said. Dont rush, think first and then act, ahahaha
Vem: He's right that could be anything. I drrraaww! Huh! That's Lorelei, looks like this is the End! Winduct, nice dueling with ya but this duel is over! from my hand i Summon Scrap Recycler! And with his effect, i send 1 Machine monster friom my Deck to the Graveyard to send my two gadgets from my Graveyard to my Deck and draw 1 card and i activate that card which is Double Summon! And that lets me Summon Machine Peacekeeper. And now this is where everything end! I activate my Lorelei's ability, when i have 3 face-up Machine Type monsters on my side of the field, i can send each and every one of them to the Graveyard to Special Summon her from my hand!
Winduct:
Hmm...Lorelei, the Symphonic Arsenal!
The crowd started cheering when they witnessed the awesomness of that card!
Miss Taylor: He managed to Summon it!
Iverson & Mysterious: Atta boy Vem!
Winduct
: *smiles mischiveous*
Vem: Lorelei, attack him directly and end this duel! Yoou know, when Lorelei attacks and inflicts damage to its opponent, his LP hit 0 immediately.
Winduct:
Should i be scared right now boy?
Vem: Yes you should becuase you lost faker! Attack and end this duel!
Suddently the large glass window broke and there was an explosion which caused damage and panic to the crowd.
????
: NOW!
To be continued...(NOTE: Effects of the Match Winners have been edited.)